You are here:  

Displaying items by tag: Tomer Heymann; review
Erenlai - Displaying items by tag: Tomer Heymann; review
Monday, 01 November 2010 00:00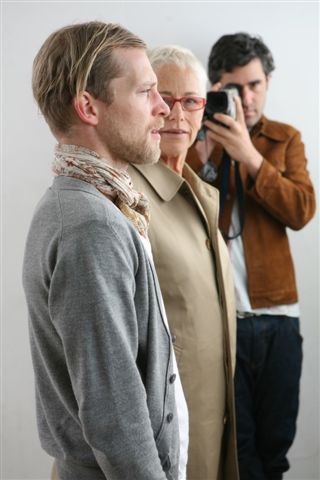 This film won the audience award at the Taizhong Biennial Documentary Film Festival
. It is an Israeli film which is compiled of a series of home videos, but not in the conventional sense that we regard "home videos". Heymann uses the camera to initiate serious discussions with his mother and his boyfriend, as well as recording their present lives, and bodies. His boyfriend is German and what I liked about the film was that it refused to focus on the "gay" relationship, instead focusing on the gay "relationship"; Tomer and his boyfriend, Andreas, discussed their relationship as two people and their families are both accepting of homosexuality.
The difficulties and the focus of the documentary was love across two different cultures, especially across the sensitive bounds of Israel and Germany - with Andreas pursuing a policy of ignorance is bliss in terms of his possible Nazi heritage.
The film was interesting because of its openness and reluctance to cower away from an invasive honesty; this included the boyfriend's discussion of life after being abused by his priest, and the doubts and worries he felt entering into a relationship in which he was willingly giving himself as well as the bitter pessimism of the director's mother about love given her divorce. The boyfriend's curiosity about himself and his relationship with his parents and Tomer is intriguing again for its honesty to his experience of emotion. He also points out that Tomer often saves up the "serious" conversations for the camera; this was not only pointing out the artificial nature of the presence of the camera recording "normal life" but also hinted at Tomer's retreat behind the camera, a safe place from which to carry-out serious discussions, which suggested a lack of self-exposure, unlike the vulnerability of the mother and the boyfriend, constantly subject to the objective gaze of the camera. In this way, he plays the role of the director, as opposed to revealing himself.
The perspective with which Andreas examines his own role as "victim" and his rejection of the victim mentality stands in stark contrast with the caustic post-colonial self-victimization of Tahimik, who was also featured in the film festival as a focus director, throughout his films.
Film Rating: 5/5
Help us!
Help us keep the content of eRenlai free: take five minutes to make a donation
Browse by Date
We have 12157 guests and no members online